Meeting between European radiation protection authorities and major stakeholders on the optimised use of CT scanners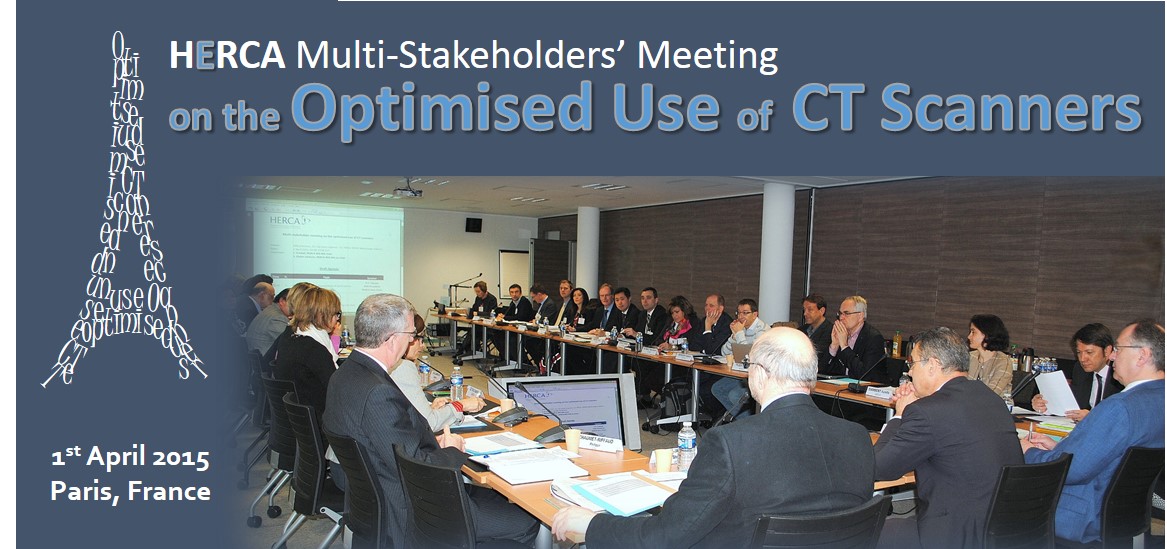 Paris, 1st April 2015

On 1st April, HERCA (Heads of the European Radiological protection Competent Authorities) organised a multi-stakeholder meeting kindly hosted by the French Nuclear Safety Authority (ASN) in its premises in Paris. The stakeholders included:

COCIR, supported by the main manufacturers of CT equipment (GE, Philips, Siemens and Toshiba),

the professional organisations: ESR, ESPR, EFRS, EANM, ESTRO and EFOMP,
the international organisations IAEA, EC, and the US FDA (present as observers).

The objective of the meeting was to exchange views with a variety of key stakeholders on issues with regard to the optimised use of computed tomography (CT) scanners. The ultimate goal of this focus on dose optimization is to ensure the best patient care by providing an optimised balance between image quality and dose.

A recently published HERCA position paper on the process of CT dose optimisation through education and training and the role of CT manufactures, was also discussed.

Among medical exposures, CT is the most important source of exposures to radiation in many developed countries today. For this reason it is important to ensure that CT dose is commensurate with the clinical purpose of the examination. Balancing patient''s radiation dose and diagnostic image quality is of great importance. This process can only be achieved if all the stakeholders involved work together as a team and are educated and trained in the use of CT dose management tools and techniques.

HERCA, whose objective is to contribute to achieving a high level of radiation protection in Europe, is extremely pleased with the willingness to collaborate as expressed at the meeting.
All organisations present welcomed HERCA's initiative recognising the importance of the CT dose management tools and techniques. There was a willingness to support a task-oriented approach and to propose voluntary commitments by the professional organisations to improve the use of CT dose management tools and techniques. This goal can be achieved if all stakeholders work together on training & education, awareness, teamwork and the good use of available tools in daily practice.
Further concrete steps were agreed upon and will be followed up.
The productive meeting in Paris proves that this kind of multi-stakeholder meeting can lead to successful results and HERCA sincerely thanks all participants for their positive contribution.
Participating Organisations
Presentations
INFORMATION
Publication date: 22-4-2015